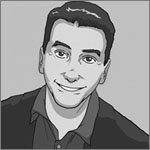 Daniel Pink, who I consider to be the most significant business author and thought leader of our time, started the new year of right – he hosted an exclusive teleseminar for the launch of his new book Drive: The Surprising Truth About What Motivates Us (not an affiliate link).
The teleseminar was exclusive to people who purchased the book before Christmas. I felt lucky to be on the call! First of all, Daniel Pink is a marketing genius, because he used this teleseminar to drive (no pun attended) pre-order sales of his book. Additionally, he gave callers the low-down on what resources, blogs, newspapers, et al. he will be watching in 2010 and I wanted to share this exclusive list with you.
1. An inspirational video with the two questions (http://www.danpink.com/archives/2010/01/2questionsvideo).
2. The 10 publications, books, and blogs to watch are:
– Springwise (http://www.springwise.com)
– The Week (http://www.theweek.com/home)
– NBER Digest (http://www.nber.org/digest/)
– Arts Journal (http://www.artsjournal.com/)
– New Scientist (www.newscientist.com/)
– Pop URLs (http://popurls.com/)
– Seth Godin blog (http://sethgodin.typepad.com/)
– Employee First book (http://bit.ly/5KF7F2)
– Different book (http://bit.ly/5bVAvd)
– The Thing (http://www.thethingquarterly.com/)
You can get more information about the content of the call if you search #drivebook on www.Twitter.com.